Federal Govt, WA, NSW, SA the biggest movers on carbon farming, QLD remains leading jurisdiction: Scorecard Report
The 2nd annual Carbon Farming Scorecard evaluates progress of Australia's states, territories and the federal government in supporting the rapidly evolving carbon farming industry. It is released for the opening of the 7th Carbon Farming Industry Forum in Cairns, Queensland.
The Carbon Market Institute (CMI) has today launched the second edition of its Carbon Farming Scorecard report, prepared with research partner KPMG. The report revealed progress across several jurisdictions, with Federal Government, Western Australia, New South Wales and South Australia seeing the biggest improvements, while Queensland maintained its leadership position from last year's inaugural report.
Despite broad progress, the report still revealed major differences in the level and nature of support for carbon farming and its role in recognising and delivering Indigenous, social, environmental and economic co-benefits for regional communities.
Compared to last year's analysis, scores for the federal government (78%) and Western Australia (53%) both rose by 8 points, mainly attributed to significant gains in transparency and integrity, alongside elevated policy signals and ambition. The Federal Government's formalised 2030 target set the tone for this increased ambition, which included commencing a series of important reforms; Independent Review into Australian Carbon Credit Units (ACCUs); strengthened Safeguard Mechanism legislation; and the introduction of its draft Nature Repair Market Bill.
WA's considerable progress was recognised following two completed rounds of funding for its flagship Carbon Farming Land and Restoration Program, while it has also become the latest Government Partner for the Carbon Industry Code of Conduct, which commits industry stakeholders to industry to higher standards of behavioural integrity, transparency and accountability.
New South Wales (71%) saw a similar upward trajectory in this year's report, increasing its score by 7 points moving from the Intermediate to Advanced category. This reflected its work in communicating and integrating carbon opportunities into the emerging natural capital market, as well as quantifying carbon farming co-benefits. Several initiatives underpinned the state's progress, including its Primary Industries Productivity and Abatement Program, Natural Capital Statement of Intent, Carbon Farming Opportunities spatial mapping tool and Blue Carbon Strategy 2022-2027.
Overall, Queensland (83%) was again the leading jurisdiction, underpinned by strong capital outlay and the fundamental integration of co-benefits. While it still has room for improvement in areas such as markets and policy integration and enabling private investment, it was awarded an improved score in 2022 for the announcement of its third round of funding for the landmark Land Restoration Fund (LRF), which earmarked $50 million in new carbon reduction and abatement projects.
South Australia, up 7 points to 56%, was also a significant mover with its Carbon Farming Roadmap building understanding and guidance towards further integrating nature-based solutions into its climate policy. The state also continues to leverage its strong regional Landscape SA Boards network to enhance carbon farming understanding and engagement.
"It's been another year of challenges but considerable progress has been made at both a state and federal level, led by the Federal Government's reform agenda, but also by individual states and territories in adopting frameworks to support the creation of high-integrity carbon credits," said John Connor, CMI CEO.
"The results demonstrate a growing recognition of the potential contribution of carbon farming to national emission avoidance and removal activities, however for many jurisdictions, this is yet to be adequately reflected at the scale required. Importantly, more work must also be done to better integrate and realise the Indigenous, social, environmental and economic co-benefits of carbon farming for local communities."
"This will require adequate resourcing to support the key stakeholders involved in their engagement with the industry, whether it's farming, Indigenous or conservation landholders, and in doing so ensure appropriate requirements for free, prior and informed consent from native title interests."
"To better coordinate this approach, we urge the federal to adopt the Climate Change Authority's recommendation for the development of a wide-ranging national carbon market strategy. This should cover both emissions avoidance and reductions, as well as incorporating a carbon removals target."
"The next 12 months will be critical in continuing the progress made so far. At a federal level, implementing key reforms, including those recommended by the ACCU Review should help build investor and community confidence. They should also address policy uncertainty threatening growth in supply of high integrity carbon credits, needed not only to complement industrial decarbonisation under the enhanced Safeguard Mechanism but also to scale avoidance and removal activities in regional Australia."
"At a state and territory level, improving incentives for landholders, progressing carbon farming roadmaps and assuring co-benefits for regional communities and environments will be key to further progress."
A snapshot of 2023 scores can be found below: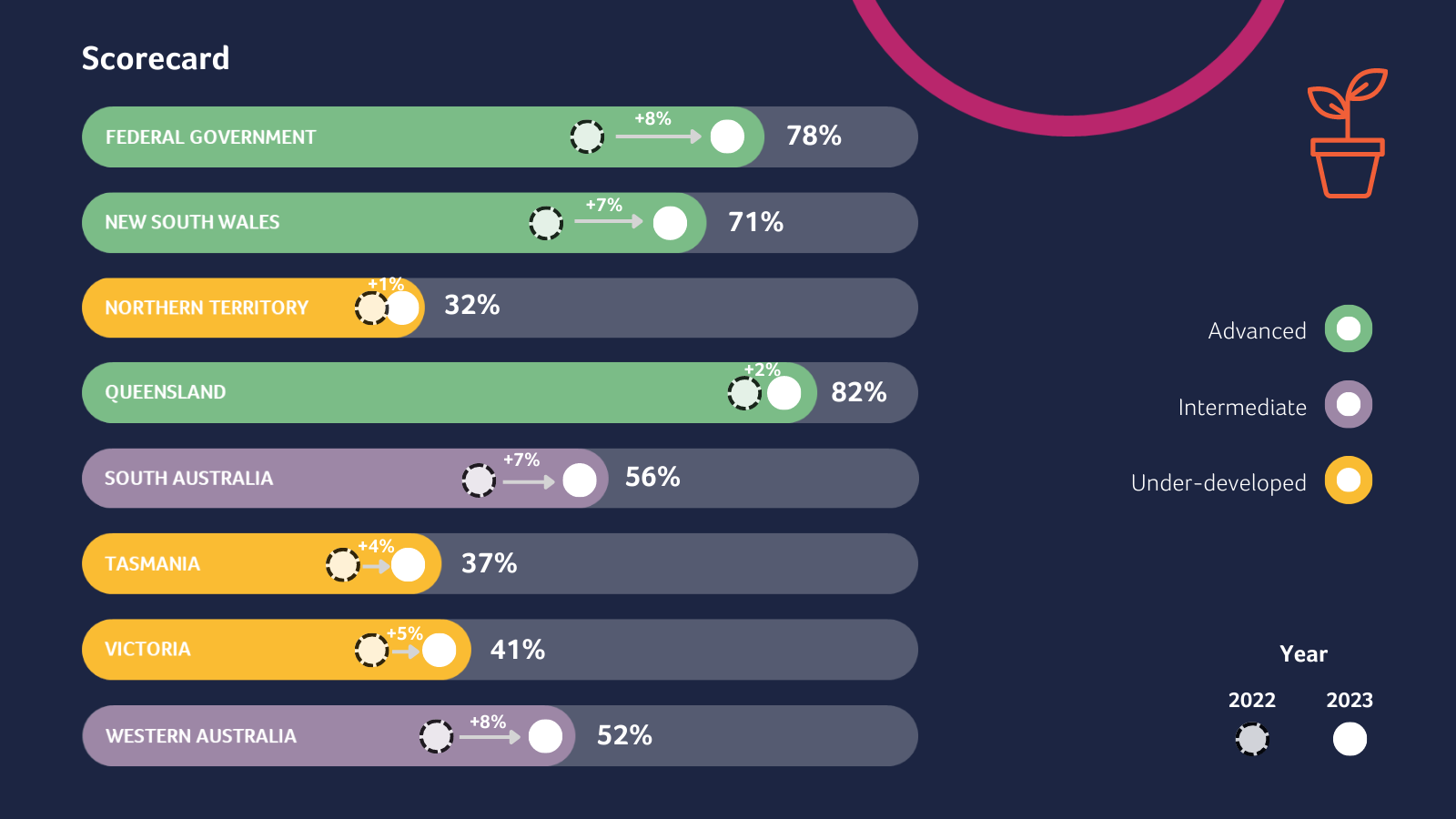 *Although included in the inaugural Scorecard, the ACT has not been scored this year due to its natural geography having a limited capacity for land-based carbon storage.
Read the full report here.
Further information on the 7th Carbon Farming Industry Forum can be viewed here.
About the Carbon Market Institute
The Carbon Market Institute (CMI) is a member-based institute accelerating the transition towards a negative emissions, nature positive world. It champions best practice in carbon markets and climate policy, and its over 150 members include primary producers, carbon project developers, Indigenous organisations, legal, technology and advisory services, insurers, banks, investors, corporate entities and emission intensive industries. The positions put forward constitute CMI's independent view and do not purport to represent any CMI individual, member company, or industry sector.
For further information, contact Thomas Hann on 0408 880 536 or thomas.hann@carbonmarketinstitute.org
About the Carbon Farming Scorecard Report
CMI's Carbon Farming Scorecard presents a snapshot of how Australia's states, territories and the federal government are supporting carbon farming and its associated benefits. It evaluates their progress on fostering growth and ambition across the domestic carbon farming industry, whilst implementing consistent and predictable policies to ensure transparency and integrity, and facilitate clear demand signals that provide supplier confidence and encourage private investment.
Developed with KPMG's support as research partner, the Scorecard comprises 12 criteria against which Australia's federal and state and territory governments have been assessed, and are grouped under the Carbon Farming Industry Roadmap's  four critical pillars for industry development: "Optimising Policy Frameworks and Market Design; Unlocking Finance and Investment; Quantifying Co-benefits and Creating New Markets, and; Communicating Benefits and Building Capacity".