Week one of COP26 has been off to a cracking start, with high level announcements and updates, and the commencement of formal country-to-country negotiations over various issues including the critical markets mechanism, Article 6. Progress, while still insufficient, is not as gloomy that some are painting it. A Briefing Paper from NDC tracking NGO Climate Resource graphically summarising new pledges and commitments concludes: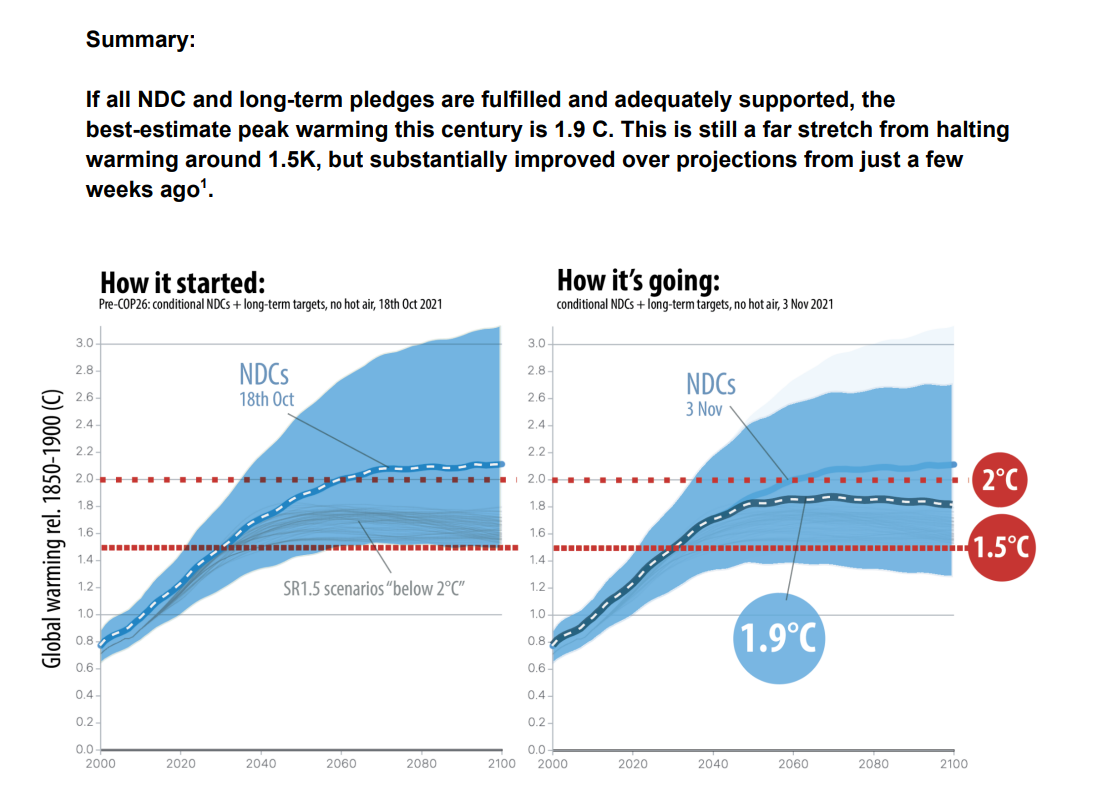 There have been COVID-related teething issues for the event, with the venue struggling somewhat to manage the stricter registration, entry and social distancing requirements – not to mention getting a handle on running a virtual and in-person (hybrid) event for nearly 39,000 people. There's a lot to unpack, so lets dig in!
Ambitious announcements from the World Leaders Summit
Navigating the COVID COP
Attending COP26 has been a difficult and expensive exercise for many country delegations and observers, not to mention an accommodation shortage, local travel disruptions and long queues to get into the venue.
Strict COVID rules have been put in place, however it has unfortunately meant that the venue quickly reaches capacity and many formal sessions have not been physically accessible to observers; delegates are being encouraged to work remotely via the COP26 virtual platform to decrease the burden. Official country representatives are limited to two national representatives in each negotiating room, which has added complexity and made it difficult for some countries to give the right contributions during technical negotiations and discussions.
Whilst the UK Presidency is working through these issues, COVID restrictions have prevented some nations from attending in person, including vulnerable Pacific Island nations like Vanuatu and Kiribati. This absence has created a somewhat uneven playing field with not all countries able to be at the table and have their voices heard in the same way. More often than not it has been the least developed and most vulnerable countries that are at a disadvantage, meaning that those who are being impacted the most by the climate crisis are not an equal part of the decision-making process.
The presidency continues to make progress with venue and virtual platform issues, and things seem to be gradually improving as the work through teething issues.
Ambitious announcements from the World Leaders Summit
The first two days of COP26 were dubbed the 'COP26 World Leaders Summit', and saw 120 world leaders gather together to share their ambitions, make formal announcements, and set the scene for two weeks of intense negotiations. At previous COPs, the majority of world leaders would descend on the event for Week 2, however it seems that things have been done in reverse (although week two will surely hold many more exciting announcements and surprises).
What has come through from speeches, side events and announcements, is that the Paris Agreement is already underway and is a clear driving force behind the global transition underway. 151 parties have now submitted updated Nationally Determined Contributions, with a further 8 announcing their intention to do so. Almost 90% of global emissions and over 90% of global GDP is now covered by mid-century net zero or carbon neutrality commitments, rising from just 30% of global GDP at the end of 2019.
Some of the more exciting announcements made over the first few days included:
Separately, Australia has made it's own announcements:
You can read more about the formal outcomes of COP26 as they happen on the official website here.
Early progress on Article 6
Negotiation of emissions trading provisions, outlines in Article 6, have made early progress with a negotiating draft prepared on day one and presented overnight for negotiators to work with on day 2. Reports from the negotiating rooms have been that the updated texts for Article 6 are "significantly cleaned up, with options removed or merged, and some brackets removed", compared to the original documents which were carried over from COP25 in Madrid. These draft texts include bracketed paragraphs, meaning they are not yet finalised and require further negotiation; there are signficantly fewer bracketed sections in this years text as compared to the beginning of COP25 negotiations, meaning that there is potentially more alignment between parties which bodes well for negotiations.
The high level issues covered in our previous post are still contentious – applying a 'share of proceeds' (adaptation levy) to Article 6.2; how to avoid double counting of emissions that are traded between jurisdictions; whether emissions reductions that sit outside of an NDC require a corresponding adjustment on a country's national account; and to what extent the Clean Development Mechanism (CDM) can transitioned into the new Article 6.4 'sustainable development' markets mechanism.
Interestingly there has been a focus on making the text inclusive – ensuring that formal market mechanisms have appropriate human rights protections, support the critical role of Indigenous peoples, and are used to enhance Paris Agreement ambition. These safeguards are critical to ensure that carbon markets have environmental and social integrity, and we will watch for outcomes on this as it happens.
Overall, negotiators are keen to reduce the number of options presented in the text, with the aim of providing as clean a text as possible (with as few bracketed paragraphs as possible) to ministers that will be responsible for resolving the most sensitive issues towards the end of the second week. Negotiators are now hard at work and we'll keep you updated as we move through.
What's coming next
Negotiations and side events continue through the night, and more exciting announcements and events are expected to take place in the coming days. Article 6 negotiations will make headway over the weekend and we'll have more to report early next week. In the meantime, make sure to register below for our next Carbon Conversation on Friday, focused on a Week 1 wrap up, and hearing what's planned for next week. Stay tuned!