Wednesday, 10 November: COP 26 is due to wrap this Friday 12 November, though it is expected negotiations may continue into the weekend.
John Connor, CEO of the Carbon Market Institute said:
"This COP, like Paris in 2015, is an 'upside down COP' where political leaders are prominent in week one. There was a blaze of announcements which gave supporting momentum to negotiations and highlighted action in investment and technology development channels, but now negotiators and ministerial representatives are knuckling down on key areas and final text.
"Cautious optimism is the dominant phrase. A key test will be the next version of draft decisions or text and they are due today our time.
"In Article 6 carbon market rule negotiations, some nations that have been major blockers are engaging in ways that they haven't before and have shown a commitment to getting an outcome, including even Brazil apparently, some African nations, the Arab Group and Egypt.
"As President of the next COP, Egypt has motivation to see this issue clear hurdles and get into the implementation phase. There remain crucial concerns about environmental integrity but many developing countries see the opportunity for markets to help them achieve their Nationally Determined Contributions (NDCs), increase ambition, and meet other sustainable development outcomes.
"Negotiators in week one successfully got the bracket count – the number of alternative options that need to be negotiated, a curious indicator of progress at COPs – substantially below similar stages at previous COPs where this issue was supposed to be resolved.
"Elsewhere another assessment of new pledges, focusing on 2030 pledges alone, was more sober than others, reminding us this is the crucial decade for the pursuit of the Paris 1.5C goal.
"This analysis from Climate Action Tracker says improved NDCs before and at COP26 have bent the estimated warming curve from 2.7C to 2.4C based on 2030 targets, and 2.1C if targets and pledges are included, noting the 1.8C is an optimistic scenario.  They agree, as does IEA, that much much more needs to be done this decade, especially improved policy, if the massive human and environmental cost savings of the 1.5C goal is to be achieved.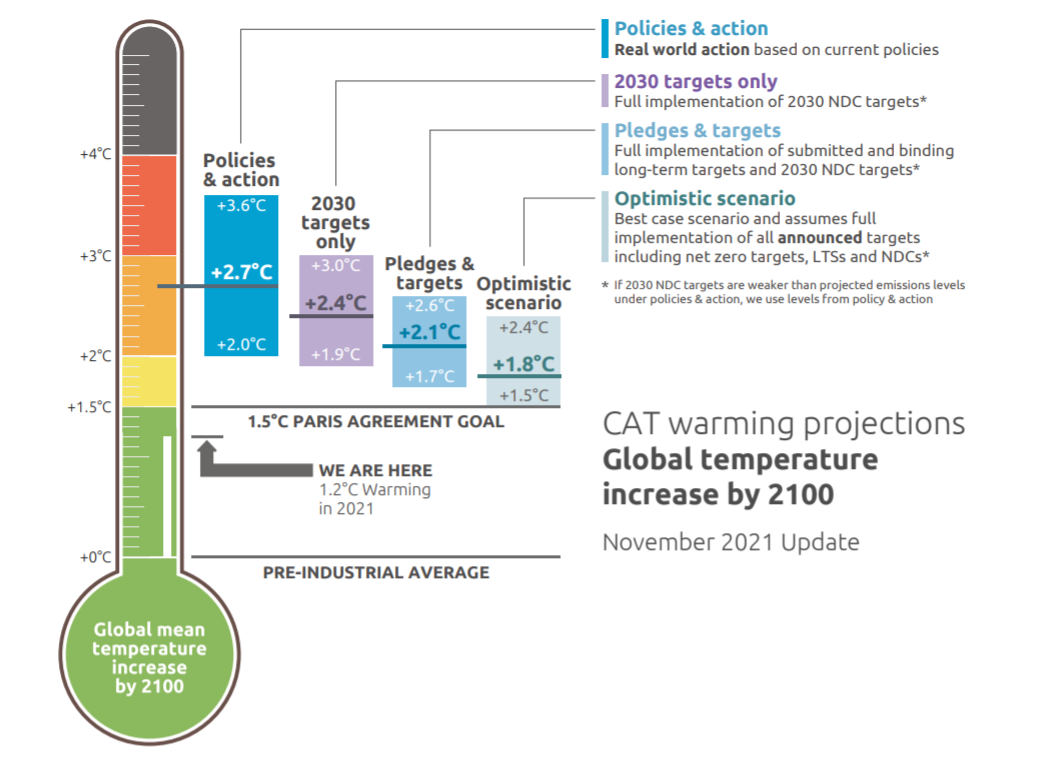 "Finally, Monday's focus on Loss and Damage is seeing this issue, of growing concern to nations suffering unavoidable, unadaptable climate costs, gaining ground.  As Politico notes Climate compensation calls are growing louder. The COP26 President Alok Sharma, at the press conference that opened  week two proceedings noted:
"Climate vulnerable communities are particularly at the forefront of my mind, and will be so throughout these negotiations. They, and the generations to come, will not forgive us if we fail to deliver in Glasgow."
"More details and direction will unfold in the coming days."
Further details on negotiations and outcomes to date, prepared by CMI General Manager Brad Kerin, are here.
The Carbon Market Institute is the independent industry association for business leading the transition to net zero emissions. Its over 120 members include primary producers, carbon project developers, Indigenous corporations, legal and advisory services, insurers, banks and emission intensive industries developing decarbonisation and offset strategies.
To interview John Connor please contact Bec Gredley on 0484 008 095 or rebecca.gredley@climatemediacentre.org.au, or Annemarie Jonson on 0428 278 880 or annemarie@climatemediacentre.org.au