With COP28 starting at the end of the month, focus is intensifying on key components, including progress on global cooperation and carbon market rules under Article 6 of the Paris Agreement, but also on required and substantial corrective decisions if the first global stocktake is taken seriously.
Global cooperation and investment was also the focus of IETA's Asia Climate Summit in Tokyo, which occurred alongside the G7's Strategic Dialogue of its Carbon Market Platform. I attended to share some of the steady progress in Australian reforms to carbon pricing and credit integrity and to touch base on activity in those areas in the region and internationally.
The activity is not insubstantial, with key developments even in recent weeks in Singapore, China, Vietnam, Indonesia, South Korea, Thailand and Japan. I was struck by how Asian countries are reacting to the EU Carbon Border Adjustment Mechanism, aligning reforms (in the case of South Korea) and considering deeper Asian carbon groupings through ASEAN or independent registries and standard setting bodies, some with links to the Pacific. Australia hosts ASEAN next March and there are big opportunities here for integration with these efforts that shouldn't be missed, as the Government considers re-booting or redirecting the Indo-Pacific Carbon Offsets Scheme (IPCOS).
Integrity in credits has continued to be a focus globally and here in Australia, where work continues to sure up our integrity frameworks to continue to build confidence in projects and crediting. In October, we finalised our latest submission on implementation of ACCU Review recommendations, which can be found here.
As I reiterated at the Summit and wrote recently, we are also seeing a conflation between inadequate decarbonisation strategies, such as those that aren't prioritising on-site decarbonisation or have a clear over-reliance on credits, and the necessary work to improve carbon crediting frameworks. We need to inflate our expectation of both. Recent research from Ecosystem Marketplace, and Bloomberg with Carbon Growth Partners (highlighted below) adds to a growing collection of research suggesting that companies purchasing credits are more likely to reduce their emissions faster than their peers, reinforcing the notion that the considered use of credits has an important role to play in taking responsibility for the here and now.
Best practice decarbonisation approaches, including the strategic use of credits, will be a central theme of our Corporate Climate Masterclass session happening this Friday, November 3rd in Perth and virtually, from 1 – 3.30pm AEDT. More details on the series, and how you can participate can be found here. There is a clear direction of travel here, with the Treasurer announcing more detail on disclosure requirements today and Climate Active's consultation details highlighted below (The Climate Active team are also participating in Friday's masterclass).
Separately I am delighted to share the results of the CMI-administered Australian Carbon Industry Code of Conduct's FY23 Annual Report, which demonstrated a strong upward tick in compliance amongst Code Signatories. The Code will also shortly undergo its three-yearly Independent Review, which will seek feedback from governments, the carbon industry, carbon market consumers and First Nations peoples on the performance and future role of the framework. This review will provide important inputs as the Government consults and implements the Code-related recommendations from the ACCU Review, including the consideration of accreditation of carbon service providers to commence later in 2024.
Finally, I want to acknowledge the disappointing result in the referendum to recognise First Nations Australians via a constitutionally enshrined Voice to Parliament on October 14th. For those of us who accepted the invitation in The Uluru Statement from the Heart to walk alongside our Indigenous partners, this result will not change our endeavours. We will continue to support our Indigenous partners, elevating their voices through our platforms to build capacity and engagement across our community.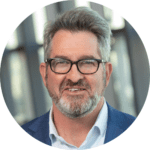 John Connor
CEO
Carbon Market Institute