CMI Media Release
Queensland and NSW are recognising the rewards of early carbon farming reforms and programs and are the major beneficiaries of $1.9 billion of land sector emissions reduction contracted by the Commonwealth Government. Other states are following as the carbon farming industry seeks to play a greater role in growing jobs and investment and realising social and environmental benefits while assisting the transition to net-zero emissions, said the Carbon Market Institute (CMI) today.
There are signs corporate demand to purchase emissions reduction may be increasing to fund compliance and carbon offsetting needs. But since the repeal of the carbon pricing mechanism in 2014, the Commonwealth has been the dominant purchaser through the Emission Reduction Fund (ERF). CMI has analysed Clean Energy Regulator data of the ERF's contracted abatement in the land sector, otherwise known as carbon farming.
It found there are 392 single-state carbon farming projects across Australia* contracted to generate at least $1.9 billion over 16 years. Projects include activities protecting or regenerating native forests, managing bush-fires in Australia's savanna to avoid late season high intensity burns, capturing and destroying the methane from effluent waste at piggeries and building soil carbon through changed farming practices.
Queensland is leading the charge with 129 projects worth $794.9 million, and NSW is right behind with 159 projects worth $728.7 million.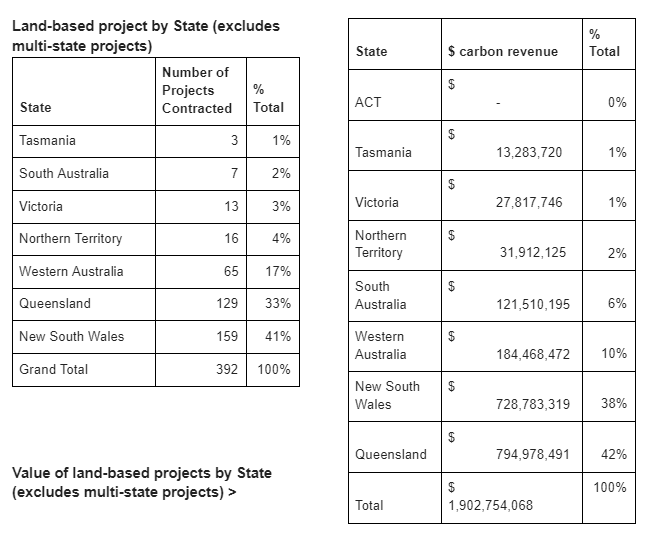 The findings come as Australia's carbon farming industry prepares to discuss plans to urgently scale-up jobs and investment, while maintaining integrity, at the 5th annual Carbon Farming Industry Forum today (10 September) and next Friday (17 September)**.

CMI CEO John Connor said:
"Carbon farming is a vital new agricultural opportunity to help Australia achieve net-zero emissions by 2050, it is adding extra commodity revenue streams for farmers and assisting international market access for agricultural and other export industries.
"Since the repeal of the carbon pricing mechanism, the ERF has ensured the survival of this fledgling industry with Queensland and NSW being the major beneficiaries followed by Western Australia. 
"Queensland is recognising the rewards of its Land Restoration Fund building on the ERF to realise additional economic, social and environmental benefits, NSW made early key reforms and is working on an advanced strategy and WA made reforms in 2019 and  has just launched its Carbon Farming and Land Restoration Program. Other states are moving to develop carbon farming strategies. 
"While the ERF has been the major driver of carbon farming in the last half decade, the 2020s will likely see the expansion of voluntary and compliance corporate activity. Carbon farming needs to grow alongside decarbonisation initiatives to achieve urgent emission reductions and it needs to do so with high integrity and transparency."
"These will be the issues focused on today at the first day of the 5th Carbon Farming Industry Forum. Next Friday's sessions will focus on carbon farming's additional social and environmental benefits, as well as the importance to agriculture of carbon as a revenue stream and as a means of assisting to demonstrate the sustainability of agricultural products to export and domestic markets.    
<ENDS>
Media contact – Bec Gredley on 0484 088 095
*A single-state project is defined as one that is not across multiple states.
**Register to attend the forum
Media are invited to attend the plenary sessions on both days. To register contact Clare Price on clare.price@carbonmarketinstitute.org. Workshops are not open to the media.
Key speakers this Friday include:
Queensland Environment Minister Meaghan Scanlon 

David Parker, Chair Clean Energy Regulator

Kate Andrews, CEO NRM Regions Australia

Dr Jenny Sinclair, Chief Scientist GreenCollar

Alex Toone, Global Head Commodities Commonwealth Bank