The Carbon Market Institute (CMI) acknowledges the new approach announced by the Clean Energy Regulator in relation to management of fixed ERF contracts, but has expressed concern about how continued market intervention will be perceived by investors and the community and the uncertain impact on the associated environmental outcomes.
"The changes, while coming with some guardrails, could deliver up to 100 million ACCUs at a value of up to $2.4 billion to corporate or other private buyers over the next decade, based on likely market prices required to facilitate exit. However, they come with no public consultation, and are not linked to greater overall emission reduction commitments" said CMI CEO John Connor.
"While we welcome that the release will be staged and that exit payments will be used for 'emission reduction measures', we are concerned about the message this sends to the market about the ability for government intervention without transparent and public consultation at any point in time, if market dynamics change."
"The Government needs to be clear about the intended use and timing of how the exit payments will be recycled and should have linked this to stronger corporate investment requirements under strengthened Safeguard Mechanism responsibilities and stronger national emission reduction commitments."
Under the change announced by the Clean Energy Regulator overnight, the Government will potentially no longer have to purchase around $1 billion in ACCUs under "fixed" contracts made with project proponents in ERF Auctions between 2015 and 2020, which were valued at around $12 to $15 per ACCU. Fixed delivery contract holders will be able to exit from their delivery obligations to the Government, and sell newly generated ACCUs at a higher price to the private market. The spot market had trades of $47 per ACCU yesterday and ACCU values increased dramatically last year, starting at $16.50 in January 2021 soaring almost as high as $60 last month.
Whilst contract holders can continue to deliver ACCUs under existing fixed delivery contract arrangements, eligible scheme participants can now opt-in to more flexible arrangements:
Holders of fixed delivery contracts who opt-in will be required to pay an exit fee to be released from their contractual obligations.
Contract holders who are compliant and in 'good standing' can be released from fixed delivery milestones that are due within specific six-month windows.
Project proponents would need to pay an exit fee (contract price multiplied by number of ACCUs) to release them from their delivery obligations to the Government.
Interested contract holders must apply and receive conditional approval from the Clean Energy Regulator.
The Government's proposal to stage the release of contracted ACCUs within 6 months of scheduled ACCU delivery could see up to 10 million ACCUs being released each year in coming years (see Figure 1.7 from the Government's Clean Energy Regulator recent Quarterly Carbon Market Report below). The first six month 'delivery window' for eligible participants is between 4 March 2022 and 30 June 2022.
"Whilst designed with clear limitations and guardrails, this change has not been the subject of formal public consultation and so it is unclear what impact this intervention will have on our growing voluntary market. Other recent interventions have included the proposed additional veto power to the Agriculture Minister on certain carbon projects, and the announcement that companies will be required to have purchased at least 20% ACCUs in Government administered "Climate Active" carbon neutral certification scheme," said Connor.
These interventions are in contrast to several other ERF reforms currently under implementation, which have been subject to extensive transparent, and public consultation through the 2020 King Review, many of which have been welcomed by CMI.
"We are concerned that continuing arbitrary changes in Australia's carbon market will challenge investor as well as community confidence in supporting carbon reduction or removal activities credited by the Government with ACCUs."
"We urge the Government to commit to proper public consultation on these and any further changes, and commit to stronger policies for Australia to reduce overall emissions by 50% by 2030, including a strengthened Safeguard Mechanism. The exit payments should also be immediately re-invested into the ERF or ACCU method development to facilitate further expansion of the market," concluded Connor.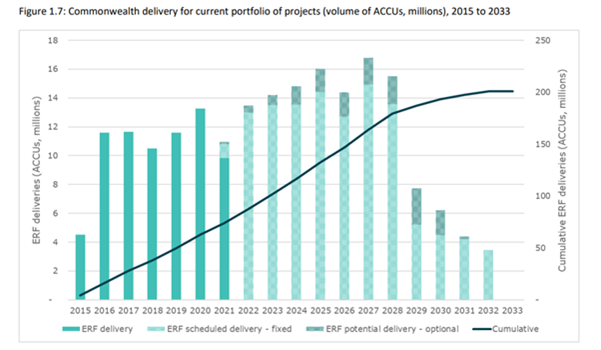 The Carbon Market Institute is the independent industry association for business leading the transition to net zero emissions. Its over 120 members include primary producers, carbon project developers, Indigenous corporations, legal and advisory services, insurers, banks and emission intensive industries developing decarbonisation and offset strategies.
If you would like an interview, please contact Thomas Hann on 0408880536 or via email: thomas.hann@carbonmarketinstitute.org