Key milestones have been met in today's results from the 13th Emission Reduction Fund (ERF) auction, but it should also mark new directions for Australian carbon markets including stronger investment signals, according to the Carbon Market Institute.
"These auction results mark an important moment as we move from the $2.55bn Abbott-era commitment into PM Morrison's almost $2 bn commitment, it provides a key opportunity for a new direction in an overall policy overhaul," said John Connor, CEO of the Carbon Market Institute.
This auction is also the first with optional only, not fixed, contracts meaning the ERF has moved more into de-risking investments than directly funding proponents. Therefore project proponents aren't fully obligated to deliver their emission reductions to the government but have the certainty that they can, if they exercise the option. Landholders, traditional owners and others can be certain of an average $16.94 price per tonne of abatement, but are now looking to potentially double that value in the spot market where ACCUs have traded, as of yesterday for up to $33.50.
"The ERF has been the principal instrument for the Government's climate policy with taxpayers footing the bill for purchasing emission reductions. It is time that business, not the taxpayer, be the driver for these emission reductions.
"This can be done as part of a credible carbon market that could be generated by reforms to the Government's Safeguard Mechanism, which requires business to measure and manage emissions. This Mechanism should have declining pollution limits as an investment signal to emitters to decarbonise or invest in other emission reductions such as those being backed by the ERF. This approach is now supported by Australia's major business and industry groups.
"The $2bn commitment could then be redirected to support clean technology development so we have a Technology and Market Investment approach to our climate challenge.
"Finally, given other negotiations underway, it is important to note that the ERF and carbon farming more generally can, and is, providing substantial investment into regional Australia.
"This is another way in which regional Australia can be a big winner from greater climate action that should include greater 2030 ambition with a 50% reduction target on a trajectory towards net-zero emissions by 2050. CMI's Carbon Farming Industry Roadmap highlights that up to $24 billion and 21 000 jobs could be generated in regional Australia by 2030."
At the 13th Auction:
• The average price per tonne of abatement purchased at the Auction was $16.94:
• The CER committed to purchase 6.8 million tonnes of abatement on behalf of the Commonwealth, the same volume contracted at Auction 12;
• 24 optional contracts were awarded to 24 projects, no fixed contracts were awarded; and
• Only three methodologies in the auction – HIR (94.5%), Avoided Deforestation (4%) and Soil Carbon (1.5%).
• The value of all contracts awarded was $115.9 million.
Figure 1 below shows auction volumes and average prices over time.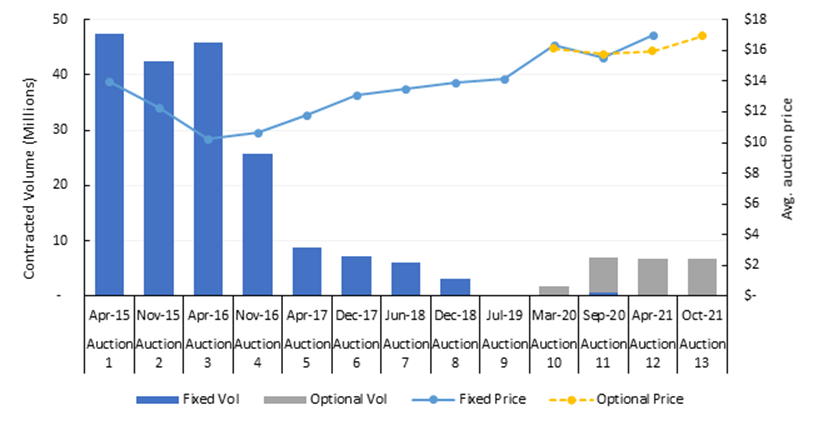 Source: Market Advisory Group: https://marketadvisory.com.au
The Carbon Market Institute is the independent industry association for business leading the transition to net zero emissions. Its over 100 members include primary producers, carbon project developers, Indigenous corporations, legal and advisory services, insurers, banks and emission intensive industries developing decarbonisation and offset strategies.